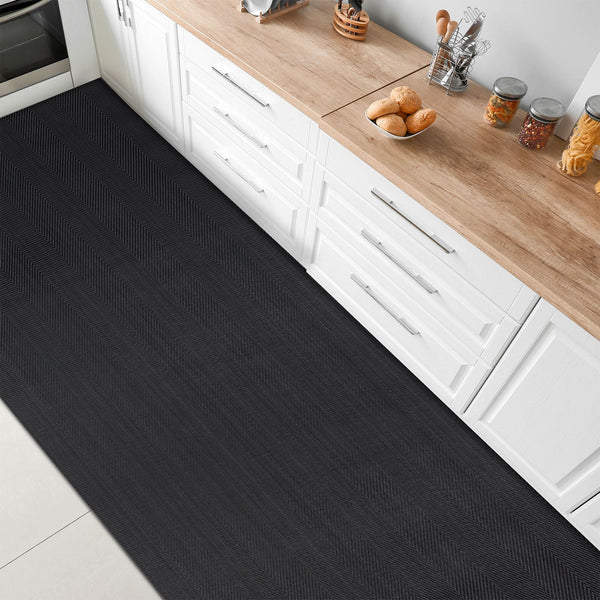 Kitchen Runner Catania | Vinyl Hallway Rug | Non-slip | Easy Care | Customised Size
Customised Size Kitchen Runner Rug - "Catania"
Thanks to its design, the "Catania" customised size kitchen runner is ready for almost any situation. It is not only a practical companion in the kitchen but can also be used in the hallway, living room or even outdoors on the balcony or terrace. The robust materials provide all kinds of advantages—for example, properties such as UV resistance, water impermeability, fire resistance and many more. Therefore, custom-made kitchen runners are ideal for warm, wet or humid and heavily used places, such as the kitchen.
The modern and simple design of the custom size kitchen runners matches almost any kitchen thanks to their colour scheme and creates a coherent and attractive setting in any room. As the runners are firmly woven, kitchen trolleys with castors can be moved over without any problems. In addition, the processing of the materials also ensures a certain anti-slip effect. Should liquids such as water or grease land on your kitchen runner, you are guaranteed a firm footing at all times.
A standard hoover is sufficient for cleaning the "Catania" made-to-measure kitchen runner. If necessary, a suitable cleaning agent can be used with a damp cloth for heavier soiling, such as grease. Since the custom-made kitchen runners have an antibacterial effect and do not allow any liquids to enter the carpet's interior, the formation of mould or the like can be virtually ruled out.
Custom-made kitchen runner "Catania"- Product features:
Material top side: 70% vinyl, 30% polyester
Material underside: PVC
Widths: 60 cm, 90 cm, 180 cm
Length: up to 1000 cm
Weight: 3-3.5 kg/m²
Thickness: 2.5-3 mm
Durability: 0.25%
Use class 32 (heavy commercial/private use)
Non-slip
Antibacterial
Sound-absorbing
Suitable for chair castors
UV-resistant
Waterproof
Fireproof (Bfl-S1)
Good kitchen runner
Very thin, therefore no stumbling block for seniors. Heavy quality, therefore no slip. We are very satisfied!
Kitchen runner
Length, width, color request: everything received as ordered. The delivery promptly came into the house.